Talks
Women in Lighting - March 2022
We are delighted to share Nishi Shah, Design Director, will be speaking at Women in Lighting's Global Gathering on March 8th, for International Women's Day.
For more information and to purchase your tickets, click here.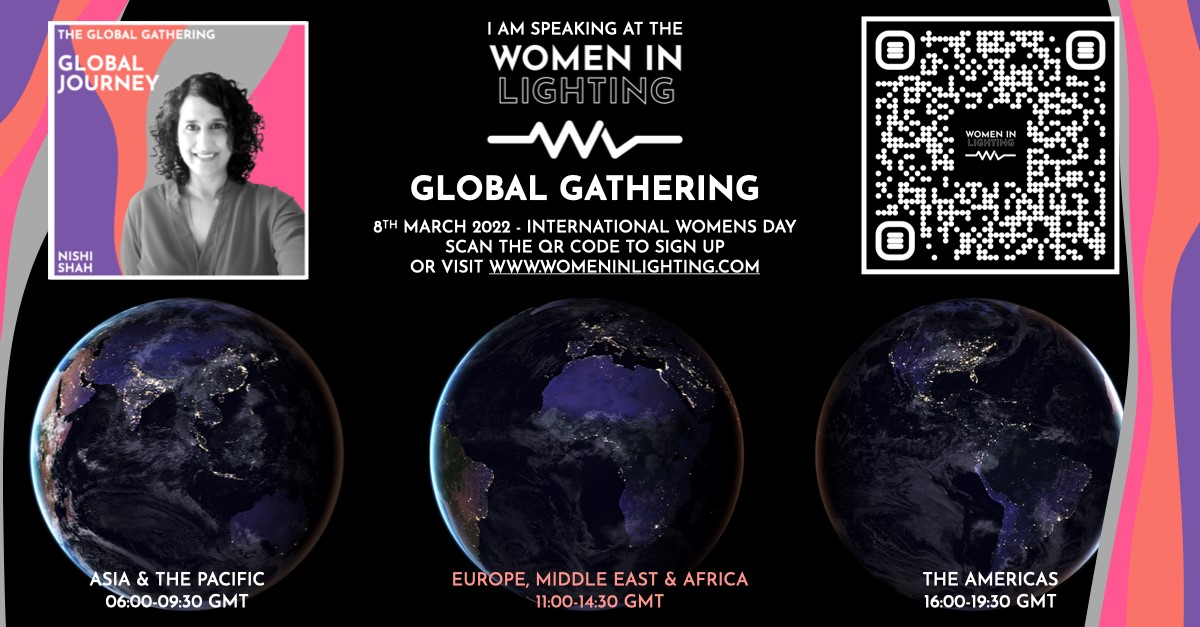 Surface Design Show - February 2022
Founding Director at Lighting Design International, Sally Storey, will be speaking with Threasa Dowling of FX Magazine at this year's Surface Design Show. More infomation about this year's show can be found here.
Register for your free ticket here to watch the talk at 12:15pm on Wednesday 9th February, on the main stage.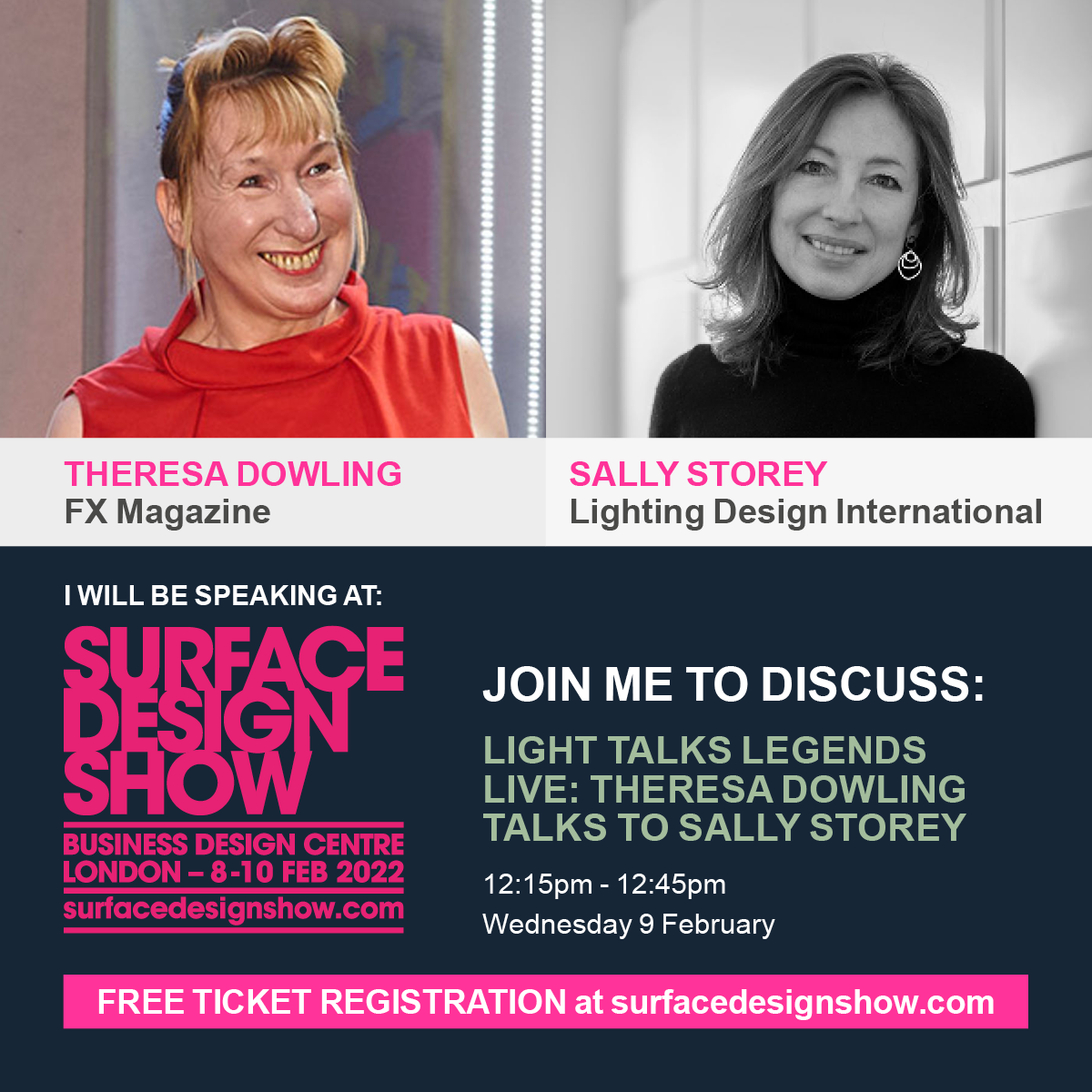 RIBA Journal One-off House Design Webinar - 2021 November
Founding Director; Sally Storey, was invited to participate in the PiP Series hosted by the RIBA Journal (16/11/2021).
As the keynote speaker, Sally shared key insights from her latest book 'Inspired by Light'.
Watch the recording of the webinar here.

Design London Darc Thoughts - 2021 September
Associate, Charlotte Svenson, joined the [d]arc thoughts panel at Design London to discuss The Role of a Lighting Designer.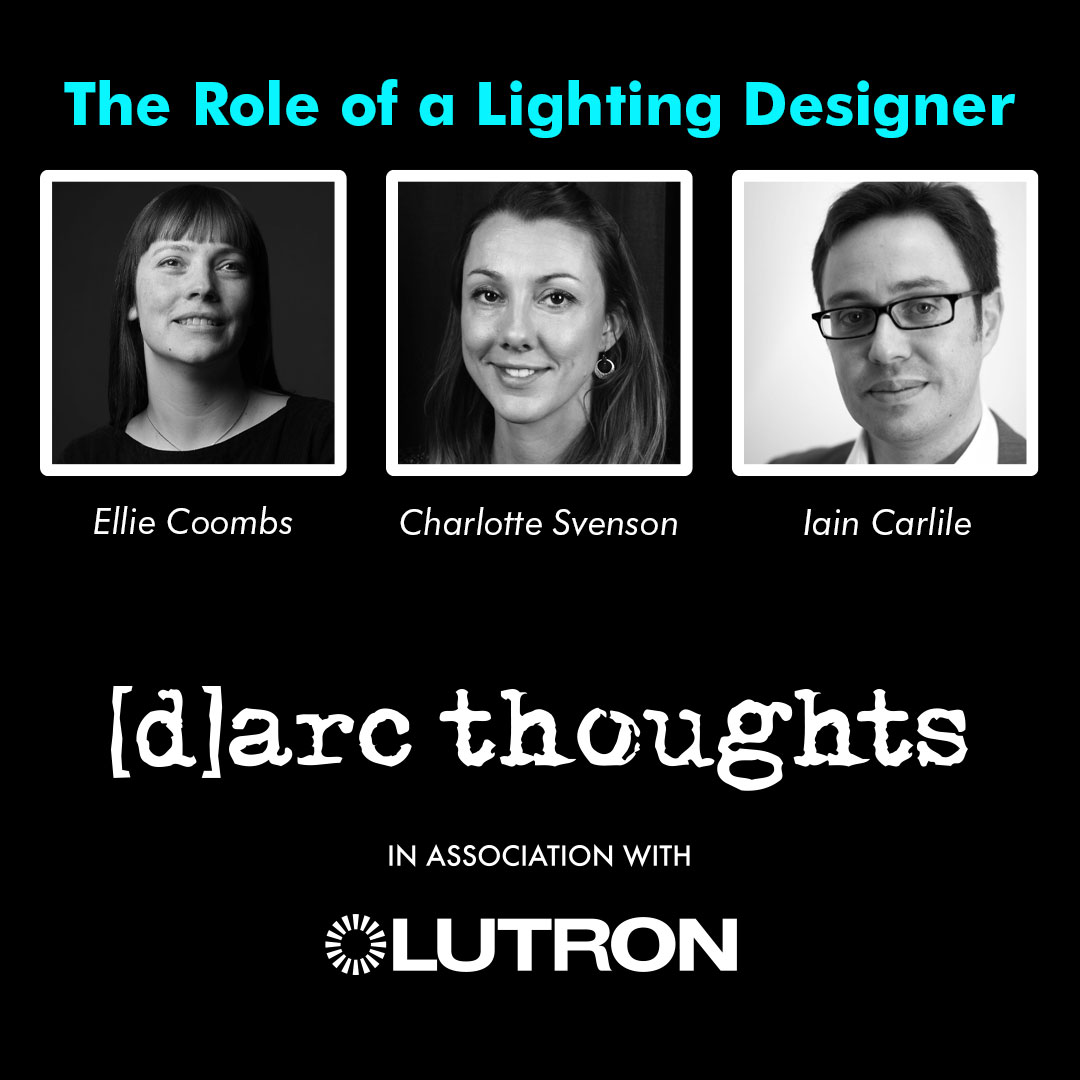 Linea Light Group Podcast - 2021 August
Recently our senior designer Arianna Ghezzi spoke with Linea Light Group in a new podcast about garden lighting and the relationship between indoor and outdoor spaces.
Right-click the link below to listen.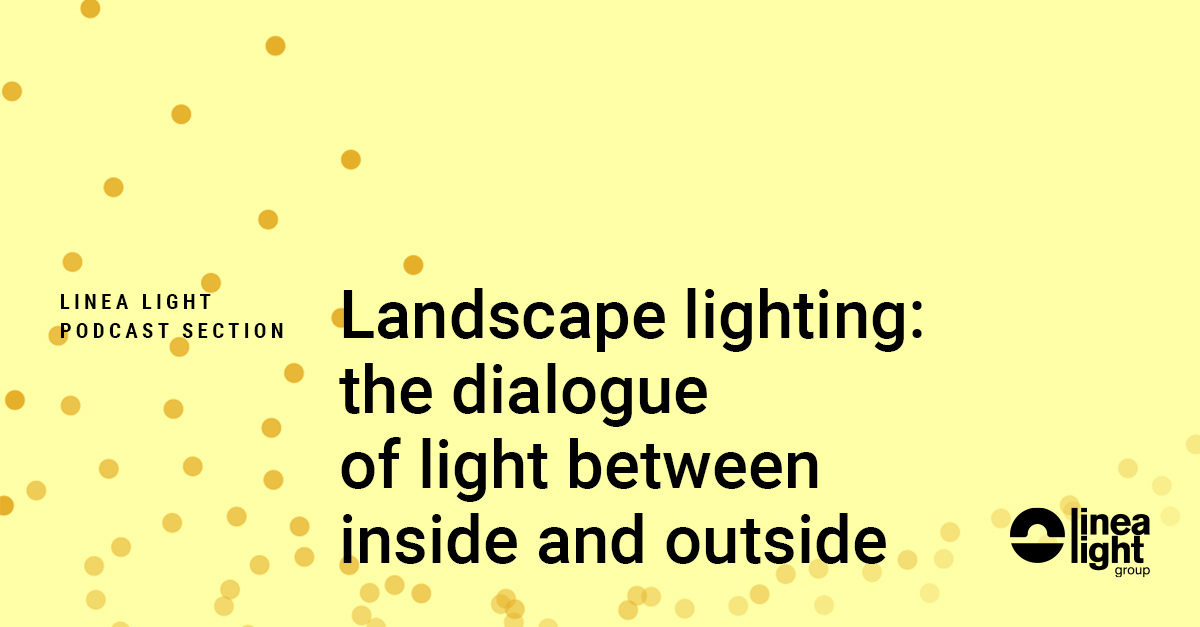 2020 June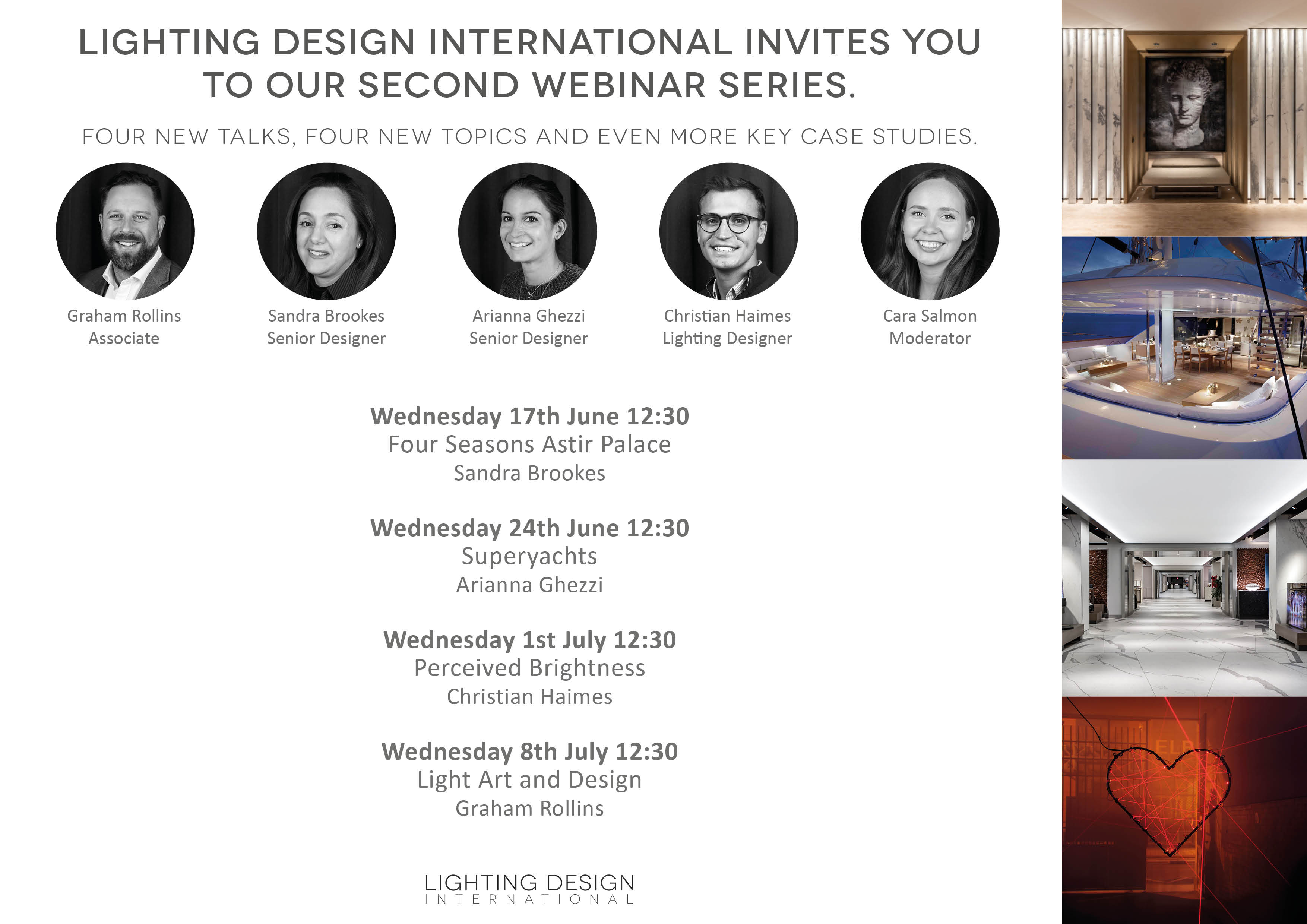 Please register to our upcoming talks by right-clicking here.
2020 April
Lighting Design International Weekly Webinars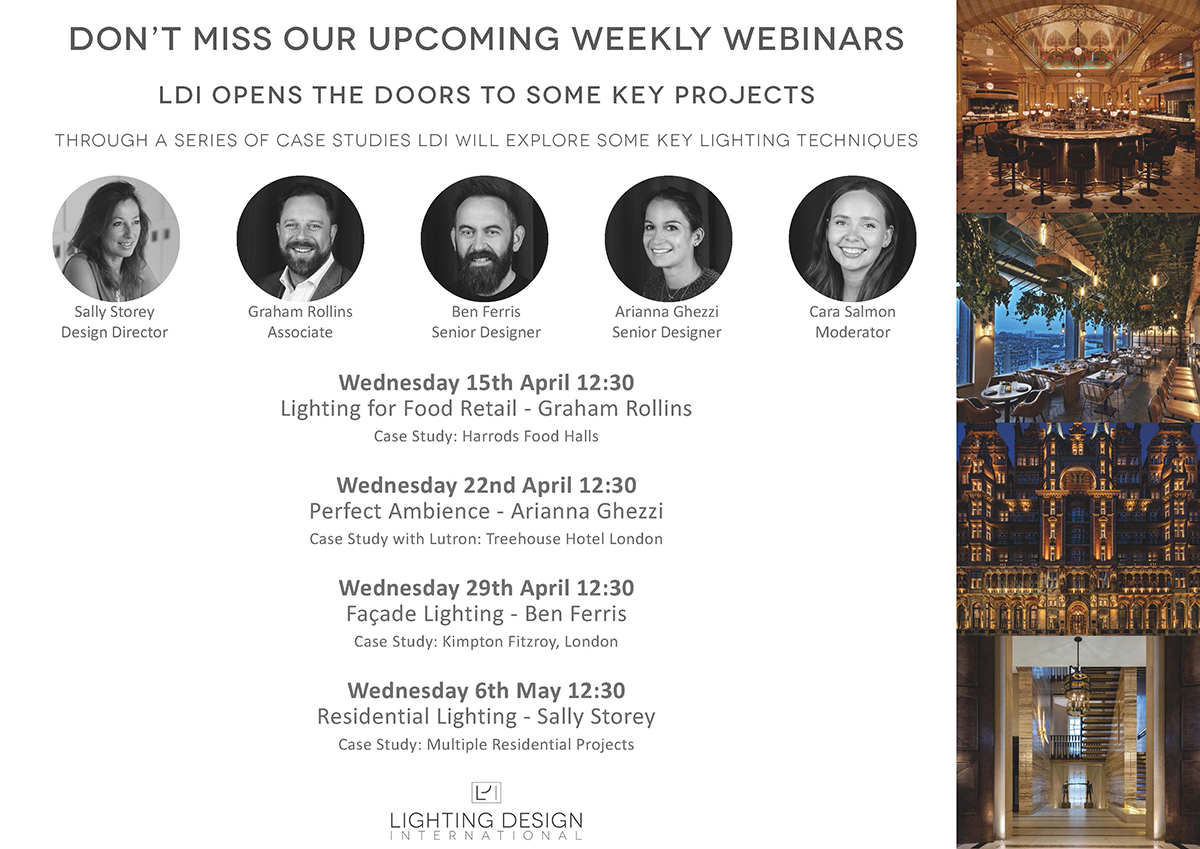 LONDON DESIGN FESTIVAL 2019
Darc Room Live
Our two designers, Agata and Ruxandra, spoke at this year's Darc Room Live on the Quality of Daylight & Effects on Circadian Rhythm in Urban Spaces. You can watch their talk here at 6hrs 5minutes.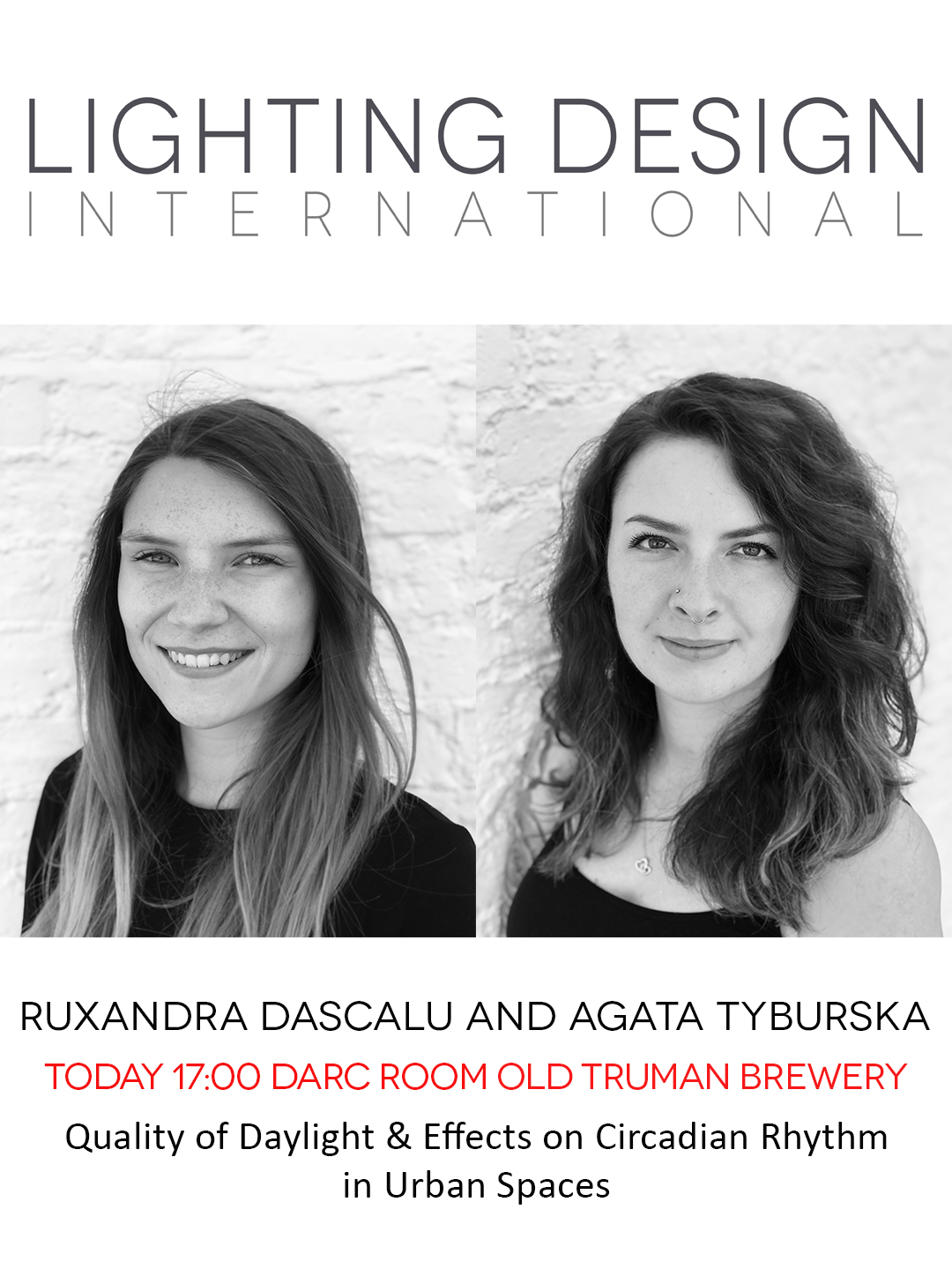 Darc Room Workshops
Senior designer, Sandra Brookes, was also involved in the Darc Room events and took part in the workshop discussing gender stereotypes in the Lighting industry and beyond.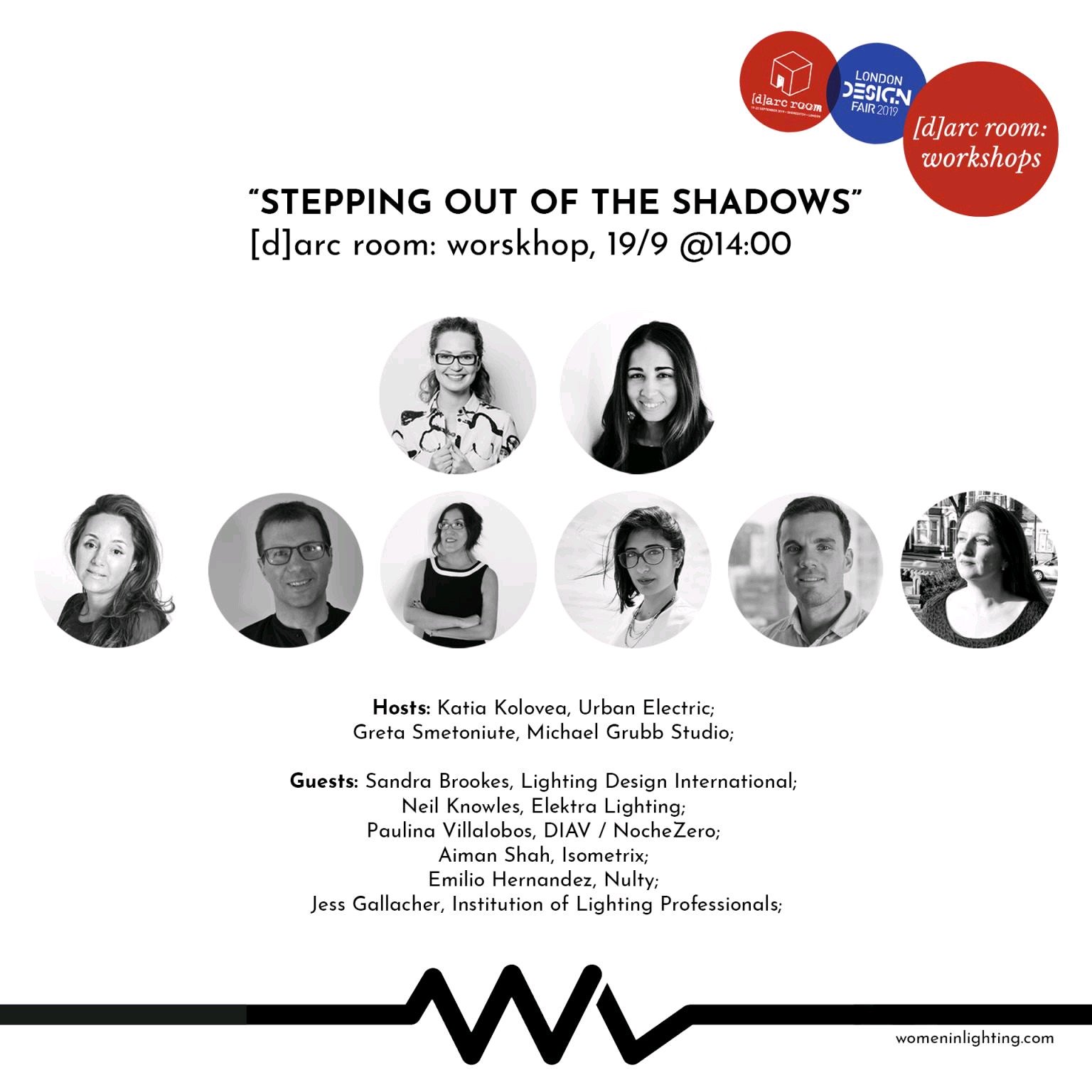 Sleep + Eat 2018 - Wednesday 21st November 2018 | 12:30-13:15
Sally will be joining a panel to discuss The Sense of Design. They will be exploring the contribution of lighting and sound to the guest experience. Make sure to register to attend by clicking the image below.
LuxLlive - Light Space - 14th November 2018 | 16:40
Don't miss our Associate, Graham Rollins, speaking on Bespoke Luminaires in Retail and Hospitality.
Darc Room Live - 20th September 2018
Our designers, Karen and Alex, will be speaking at this year's event. Click on the image below for more information.
Lighting design; weighing lightly in a heavyweight construction industry?
Are we doing enough to enhance the status of lighting design & increase its role in the contruction industry?
Shanghai Hospitality Design & Supplies Expo 2018
Sally Storey featured at this year's event. Her chosen subject was Lighting is all in the Detail, where she covered topics such as how lighting can be integrated into archictectural details to provide an addtional layer of light.
Light School at London Design Show 2018 - 7 February 2018
Associate, Graham Rollins will be speaking from 18:00 - 19:00 at this year's Surface Design Show in the Light School talks. Don't miss Graham discussing customising light.
LuxLive - Lightspace- 15 November 2017
Don't miss our Senior Designer, Alex Bittiner, speaking in the Lightspace at this year's LuxLive. Alex will be presenting ideas & techniques in integrating lighting into the fabric of buildlings old and new.
Surface Design Show - 9th February 2017
Our Senior Designer, Charlotte Svenson, was involved in the Light Talks at this year's event. Charlotte discussed how lighting and control can influnce your guests' experience.
Lux Live 2016 - Excel, London 23 November 2016
At this year's event Sally Storey will be discussing 'The hipsters' filament lamp is dead: the next big trends in hospitality lighting'. Find out what will replace the industrial lighting aesthetic currently swamping cafes, restaurants and bars.
Our Associate, Graham Rollins, will be will be joining a panel discussion 'Is lighting the link between bricks and clicks?' The panel will explore how retailers are blurring the line between bricks-and-mortar retail outlets and on-line shopping experiences. Will lighting provide the crucial link?
Senior Designer, Katerina Chanioti, will be talking at 12:30pm in the Whitecroft Tech Theatre on '10 lighting tricks every restauranteur needs to know' . Katerina discusses how important lighting can be to create the perfect atmosphere and to illuminate cuisine correctly.
IALD Enlighten Europe Conference - 13-15 November 2016
Our senior designer, Gavriil Papadiotis, will be talking on 'The Camera as a Tool for Lighting Design' at this year's conference. In the session Gavriil will be showing various techniques on how to improve your work routines, take better photos, and inspire colleagues with your pictures.
Restaurant Design Show - 27/28 September 2016
We are very excited to announce Sally Storey will be speaking in the Keynote Seminar Theatre on "Creating Ambience with Light".
Masters of Light Westcast Series - 18 May 2016
Sally Storey will be talking about her own adventures in light and what has keep her so excited about the industry for the past 30 years.
Lux Live Middle East - 13-14 April 2016
Sally will be talking at Lux Live in the Middle East on "How light in hotels can contribute to the ultimate guest experience" at 1pm on Wednesday 13 April. Sally will be available to chat to throughout the event, so do come along if you have any lighting related questions!
Superyacht Design Symposium - 21-23 February 2016
Hosted in the Austrian Alps, the Superyacht Design Symposium will be taking place this February 2016. Design Director, Sally Storey, will be featuring at this year's event joined by experts from all areas of the superyacht industry for two days of discussion on yacht design. The ShowBoats Design Awards will be held during the Superyacht Design Symposium where Sally will be a part of the judging panel.

Surface Design Show - 9 February 2016
Keep a look out for Sally at the Surface Design Show where she will be talking about 'How to use light to create a retail experience that reinforces your brand'. Shopping is becoming a leisure-time activity and therefore creating a retail environment that people want to frequent is key. Sally will be exploring the different ways in which light can create an experience, not just a shopping opportunity, adding value by evoking emotion, enhancing product displays and altering shopping behaviour whilst reinforcing the brand identity.
Lux Live - 18-19 November 2015
Look out for more information on Sally Storey's talk at Lux Live in November on hospitality lighting coming soon.
May Design Series - Designers with Light Series
Date: 19th May 2015
Time: 2pm
Design Director Sally Storey will be presenting a talk entitled Adding Luxury to Hotels with Lighting.
Sally will show how lighting can add the luxury to hotel interiors. Using lighting designs from recent projects from Ham Yard Hotel to Fera at Claridges, The Savoy to the Corinthia, Sally will show how lighting can make the simplest of interiors look glamorous.